While we@Halter's are always happy to fix your flats it is a skill which once acquired, will serve you well, especially when you're on that ride 15 miles from base and the inevitable happens …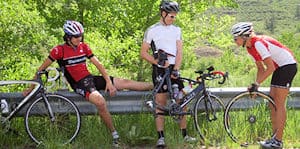 Firstly, always be prepared. Check out our advice about what should be in your seat-pack.
If you're riding in a group, there's no need for everyone to be carrying a pump, say. But most riders will feel most comfortable if they're self-sufficient.
Secondly, the best place to practice fixing a flat is in the comfort of your home. Otherwise, believe me, the first time you have to do this on the road, the first sleety rain showers will be closing in for the winter and you'll be cold, wet and miserable and you'll hardly be able to feel your hands. Basically, your first flat will make you feel like this even if it's the middle of summer.
So, I looked on YouTube for a video showing how to fix a flat. I chose this one because it's one of the few which feature a flat in the wild rather than a fully equipped workshop. The video shows road bikes, but the principles apply from hybrid bike to mountain bike.
Note especially, the way to set your rear gears – this will make removing and replacing the rear wheel easier. Don't forget, front forks usually have a safety lip on the dropout so quick releases have to be further unwound after release. Examine the tire to make sure the sharp that caused the flat isn't still embedded and make sure you don't pinch the new tube as you install it.
And make sure you stop in a safe place!!!
Easy, huh?
So, always have a spare tube. Take the punctured one home and fix it at your leisure using a patch kit. Carry a couple of self-adhesive patches in case you catch a flat plague. Don't let the first time you do this be on the road or trail.
If you use tubeless tires, you can always install an inner tube in emergencies. Make sure you know how to remove the valve.
Be safe out there …
If you're seeking information on other topics click on any item in Halter's Tag Cloud in the right hand column of this blog …
---
Alan – That British Bloke
---