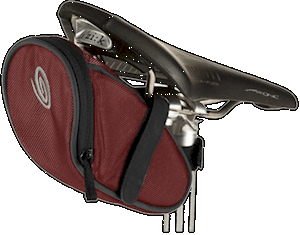 There is one thing that is inevitable when you ride a bike. One day you will find yourself with a flat tire miles away from your home or car.
Of course, you could call up your chauffeur to drive out and collect you, but more likely you will want to be self-sufficient and fix the problem yourself.
Most cyclists, on the road or on the trail, carry a small kit which will get them out of most mechanical situations.
These are the things I cram into my seat-pack for a regular road ride. A trail pack won't be much different:
Spare inner tube – essential even if you're running tubeless tires. Take your flat tube home and fix it at your leisure
Patches – ever had three flats on one ride? I have
Tire boot – for badly slashed tires, although I once managed 20 miles using a dollar bill as a boot
Tire levers – if you've removed a tire once or twice before you can probably manage with one lever
CO2 inflator –plus a couple of spare cartridges. If you've not used a CO2 inflator before, waste a cartridge and try it in the comfort of your own home. On extended rides I also carry a miniature pump
Multi-tool – I carry a minimal one, but tools with chain-breakers, crank extractors, etc, are available if you're feeling ambitious or pessimistic
Money – at least you can buy a consolation coffee
Hand wipes – if you don't want to spend the day with dirty hands. I also carry a pair of disposable nitrile gloves
Old sock – wrap every thing in an old sock before stuffing in your bag to stifle rattles. No one likes a noisy seat pack. Well, I don't anyway. And you can wipe your hands in it too
And … a piece a cling wrap to bundle up small bits, a spare chain link, keys, etc, etc …
Other extra's you might consider; a small first aid pack, sun screen, eye drops, extra hydration supplement sachets, the kitchen sink …
I don't carry my phone in my seat-pack. I usually seal it in a sandwich bag and keep it in my back pocket. I have found that some brands of bag let you use your touch screen through the plastic.
So, be self-sufficient, carry a small rescue kit and know how to fix a flat … I'll be posting a blog article about that another day.
May you enjoy perpetual tail-winds …
Halter's carries a range of seat-packs from mini- to maxi-. And all the other stuff you need; levers, tubes, patches, inflators, multi-tools, etc.
If you're seeking information on other topics click on any item in Halter's Tag Cloud in the right hand column of this blog …
---
Alan – That British Bloke
---