First of all, let's get a couple of things out the way.
Buying a child's bike in your favorite independent bicycle store is going to cost you more than in a big box discount store.
Bike shop quality children's bicycles are built from quality parts, often the same components as found on adult bikes. They are diligently assembled by experienced bike-mechanics to deliver your child a safe, properly designed and durable bicycle. The shop will also have the resources and the commitment to resolve mechanical, safety and warranty issues which may arise.
A cheap bike only looks like a bike. It's a toy, not a bike. Issues will often cost more to remedy and repair than the original price of the bike. And there will be issues.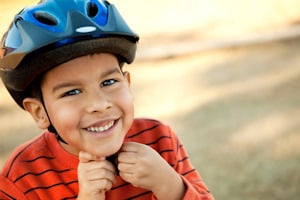 Secondly, it is the law in New Jersey for children under the age of 17 to wear a cycling helmet when riding a bike. More about this here and here.
One of the first decisions to make when considering your child's first bike is whether or not to use training wheels.
Recent studies indicate that children learn to ride a bike faster and with more confidence using a balance bike.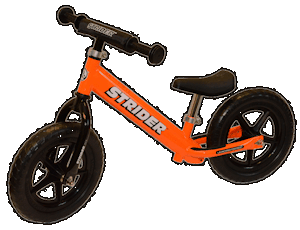 A balance bike dispenses with pedals so the child scoots along supported and propelled by their legs. Children often acquire this skill surprisingly quickly.
Indeed, the most effective way to encourage your child to ride a bike is to give them a balance bike, a helmet and a grassy slope.
They will be well on the way to riding a two-wheeled bicycle in a very short time.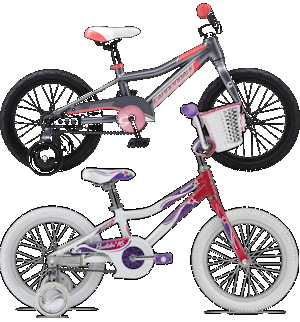 However, most children's bicycles with wheel sizes between 12″ and 16″ – standard bike shop sizes – will come with training wheels, and some 20″ wheel bikes can have training wheels fitted after purchase.
12″ and 16″ wheel bicycles feature coaster type brakes. That is brakes which work when pressing the pedals backwards.
Some 16″ bikes also include a hand brake controlled by a lever on the handlebar. This is useful for older children since it introduces them to the type of brake they're more likely to use as they progress onto larger bikes.
20″ wheel bikes have a number of configurations from cruiser-type bikes with coaster brakes, BMX and mountain bikes with gears and hand-brakes.
The largest child's bike size, the 24″ wheel, is also available in many types, from cruiser to fully featured mountain bikes with suspension and gears.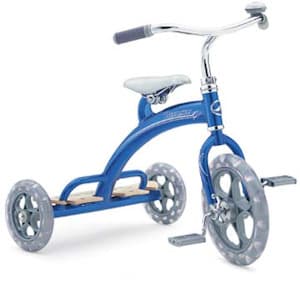 Lastly, older children and teenagers may be more suited to a full size adult bicycle. Many are available with extra-small frames which taller children can ride safely. This will cost you a little more, but your child will have a bike which will fit them for a long time to come.
Halter's stocks a range of quality children's bikes from Giant, Cannondale and other makers.
All our bikes are backed by the manufacturers' warranty and our expert service.
We also supply infant tricycles and can advise you on adaptive bicycles for children with special needs.
If you're seeking information on other topics click on any item in Halter's Tag Cloud in the right hand column of this blog …
---
Alan – That British Bloke
---