A Proper Bike Fit is Critical for Comfort and Efficiency
Most road rides will be 2-3 hours and even more so fit is critical. A professional bike fitting makes sure that your purchase provides the most appropriate, efficient and comfortable cycling experience within your budget and requirements.
Professional Bicycle Fitting Begins at the Pedals
If you want to learn more about professional bike fitting in NJ, a good fit starts from the bottom with the feet. 
Clipless pedals enable you to locate your feet consistently in the most comfortable and efficient position. If necessary we can use specially–designed insoles and spacers that along with properly positioned shoe cleats create an ergonomic riding position allowing the legs to become fully extended without putting unnecessary pressure on the joints of the knee.
 If you're nervous about that clipped in feeling, or you're wondering if it's right for you, you can try them out while the bike is safely locked in the stand and you have a little time to practice.
Getting the Right Seat to Handlebars Bicycle Fit
Once we establish the correct seat height and fore-and-aft position to achieve proper leg extension, we'll start  working out the correct reach to the handle–bars for you. This is dependent on your general flexibility and style of riding  and may involve swapping the stem to get the correct reach and the handle-bars to ensure your chest isn't either constricted or uncomfortably wide.
Generally, at each stage components will be swapped out for ones of equal value, but if you have particular requirements, such as a more comfortable saddle or carbon-fiber handle-bars, there will be an extra charge.
After a few tweaks the bike will be in a condition for a short ride around the neighborhood of the shop. You will be accompanied on the ride by your bike fitter who will note your stance and make sure it matches your riding style. 
If you've never ridden a road bike before they will also coach you on technique, such as gear selection and operation and getting your feet out of clipless pedals—not as intimidating as you might think.
Final Adjustments to Get the Perfect Bike Fit
Back at the shop your fitter will make final adjustments to your new bike, and depending on your budget may make suggestions about a different brand or model of bicycle so you can make a comparison.
Want to Learn More About Bike Fitting
Check out this great post on Teton Gravity Research called 8 STEPS OF A PRO BIKE FIT – DO YOU NEED ONE?  It goes into fine detail about our process and offers a third-party review and appraisal of what you will get out of the experience. We highly recommend you read it before scheduling an appointment.
*Every Drop-Bar, Road-Bicycle, Touring, Triathlon and Cyclo-Cross Bike ($999 and Up) Purchased from Halter's Includes a FREE Personalized Bicycle Fitting Session.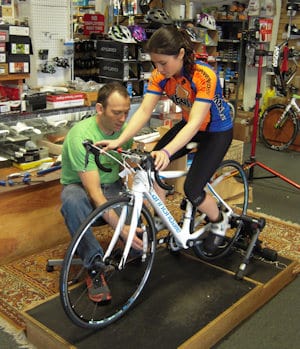 We believe a proper bicycle fit is crucial for our customers' comfort and long–term enjoyment of their bicycle.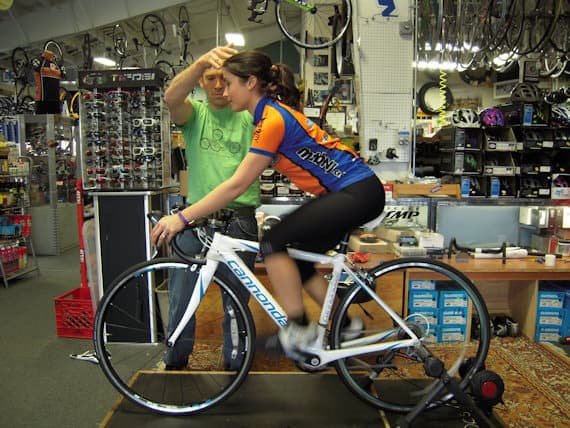 We rely on a combination of our experience and your personal  to dial in the the best fit between your body's unique mechanics and your bicycle.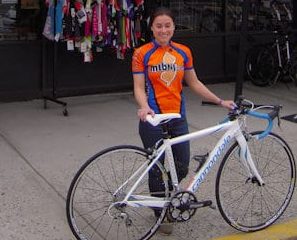 Frequently Asked Bike-Fitting Questions
How Long does a Bicycle Fitting take?
You will be in the shop a lot longer than you think. Prepare for the best and keep 3 hours ready to burn. You might leave sweaty and tired.
What if you can't fit me on a bike?
You might not leave with a bike on the day of your fit. We may not have a bike that matches you on the shop floor, however, we have a substantial inventory of boxed bikes and can special order as necessary.
Can I Walk in the Shop and Expect a Bicycle Fitting?
We work by appointment for bike fitting. In the summer months we are sometimes booked 3 weeks in advance.  PLEASE!!! call ahead for an appointment. Our store number is 609-924-7433.
When Should I schedule a fitting?
Weekdays are the best. If you can come in midday during the week it will be in your best interest. A Saturday can work too, but you will get better service outside the tornado that is a weekend in a bike shop.
Do Bicycle "Fits" Change Over Time?
No fit is final. This means that although a proper fit might be achieved in one sitting, it may take 2 or 3 attempts to get things dialed in. This is the norm since big changes in bike posture might take hundreds of miles before your body adapts. No fit is forever. What this means is what works great for you today might feel really bad next spring after spending 3 months off the bike. Our bodies are in a constant state of change so your fit may also need to change over time.
What Is The Goal of Bicycle Fitting?
COMFORT IS KEY! You are most likely not a professional rider so why expect your bike to look like a pro's? Often new riders will have their bars so low that they can't use the drops. This is what gives "ten-speeds" a bad name. You are in control. This means that we will work with your body positioning until it "feels" best for you. There clearly is a right and wrong, but sometimes what feels best for you is not the standard "right".
We don't use lasers or MRI machines in our fittings. We fit hundreds of people a year using a concepts from various fitting schools and systems. We believe that common sense and experience is invaluable.
What Do I need to Bring with me?
Dress for success. If you have proper cycling wear, please bring it. If you don't we have plenty in stock. Bring bike shorts and shoes if you have them.