A Proper Bike Fit is Critical for Comfort and Efficiency
Most road rides will be 2-3 hours and even more so fit is critical. A professional bike fitting makes sure that your purchase provides the most appropriate, efficient and comfortable cycling experience within your budget and requirements.
Professional Bicycle Fitting Begins at the Pedals
If you want to learn more about professional bike fitting in NJ, a good fit starts from the bottom with the feet. 
Clipless pedals enable you to locate your feet consistently in the most comfortable and efficient position. If necessary we can use specially–designed insoles and spacers that along with properly positioned shoe cleats create an ergonomic riding position allowing the legs to become fully extended without putting unnecessary pressure on the joints of the knee.
 If you're nervous about that clipped in feeling, or you're wondering if it's right for you, you can try them out while the bike is safely locked in the stand and you have a little time to practice.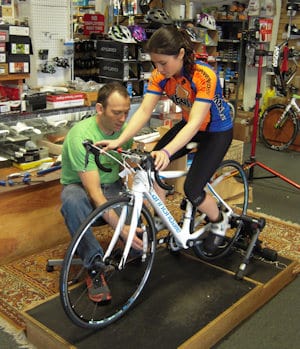 We believe a proper bicycle fit is crucial for our customers' comfort and long–term enjoyment of their bicycle.