First of all, let's get one thing straight. If someone really wants to steal your bike they will.
No amount of cables and chains will defeat the determined bike thief. However, it's possible to differentiate the risk, whether you're running into a country deli on your Sunday ride or leaving your carbon road-bike overnight in Central Park.
Bikes also may require locking up, even in your garage or shed. Sometimes you may need to lock your bike to your car carrier too.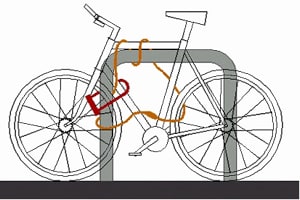 If you're looking for the most security then make sure your locking device threads through the frame and wheels.
The diagram shows the correct use of a U-lock and cable, but this can be done with just a cable if it's long enough. About 6ft/1.90m will do it.
Take any temporary fitments such as bags, pump and computer with you.
If your bike has a quick-release seat clamp you might want substitute a regular bolt to fix the seat more securely.
There are a number of variations on the cable-lock. Available in different lengths and with either key or combination mechanisms. Some cables come with a fitting designed to enable the lock to be carried conveniently on the bike.
These locks depend on the toughness of the cable to resist cutting, although some more expensive locks also combine a material such as kevlar to augment the cable.
For convenient use there are also retractable cables which can even be carried in a jersey pocket. These are only effective for light duty, but may give you some confidence on that coffee stop.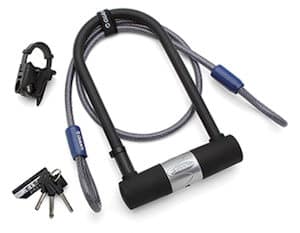 For heavier duty consider a U-lock. These require a little thought to use effectively so carefully check manufacturers instructions.
U-locks come in different sizes so it helps to know where the bike is most likely to be locked.
In a nutshell, you must ensure the combination of bike frame, wheel and immovable object fill the interior of the U. You will also require a cable extension to secure the other wheel for maximum security.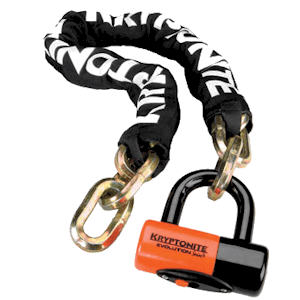 Probably the most secure bike lock is the "New York" type. Don't ask me why it's called the "New York" …
It's good, but it's also very heavy and not an option for carrying around unless you are going to be locking your bike up in some very challenging areas.
There is also a version you can wear as a belt for portability.
So, when choosing which bike lock to buy, consider where it's going to be used and the level of security you require. You also need to to think about how you're going to carry the lock around. An effective lock will always be rather bulky.
Halter's stocks a variety of cable, u-locks and chains. We'll also be happy to advise on other aspects of bicycle security.
If you're seeking information on other topics click on any item in Halter's Tag Cloud in the right hand column of this blog …
---
Alan – That British Bloke
---