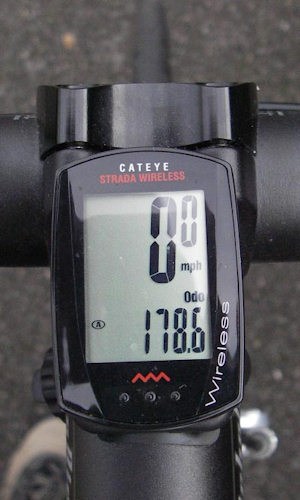 One of the first accessories purchasers of new bike make is that of a bike computer. Everyone wants to know how fast they're going and how far they've ridden.
A bike computer will provide information such as speed, average speed, top speed, trip distance, odometer and time of day.
It works by using a magnetic sensor, usually situated by the front wheel, and a head unit which fits on the stem or handlebars.
A basic computer is connected to the sensor with a wire. If you're installing a wired computer you need to figure out a route for the wire from the sensor to the head unit. Expect to pay around $20-$30.
In use the wires have a tendency to catch and break, especially when the bike is being loaded into or onto a car. Replacement wire harnesses may cost nearly as much as the computer did in the first place.
A wireless computer uses digital radio technology to communicate from the sensor to the computer. This looks neat and eliminates the problem of cable routing and broken wires. A basic wireless computer costs around $60-$70.
You can expect a couple of years battery life for computers and wireless sensors.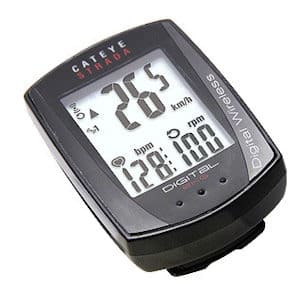 If you require more information such as cadence – the rate at which you are spinning the pedals – or heart-rate a double or triple wireless bike computer will provide such information.
Cadence is detected from a sensor situated on the chain-stay while heart-rate requires wearing a monitor belt across the chest.
If you require this much information then expect to pay around $150. This is the least expensive way of collecting such data.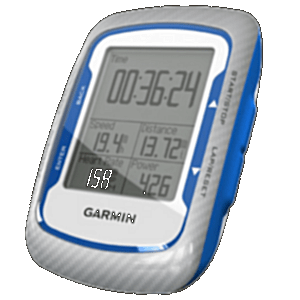 The big development in the past few years has been in devices which use the Global Positioning System to determine your speed and position.
As well as making a record of your ride on the road or on the trail, more sophisticated devices can keep track of your heart-rate, cadence and power output when associated with the appropriate sensors.
You can also plan a route which can be uploaded to the GPS unit which, according to how sophisticated it is, can show a cue sheet and/or route map with directions for planned rides.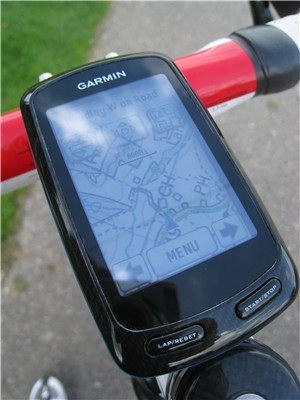 A basic GPS unit will gather speed and route information from a ride which can then be uploaded to a website which will then be able to display your route, altitude profile and other data on screen.
More expensive units will also have ANT+, a means whereby the head unit can communicate with other ANT+ enabled sensors such as heart-rate monitors, cadence sensors and power-meters. This data can also be displayed and analysed on computer to provide a comprehensive picture of your ride.
The most advanced devices are capable of displaying detailed maps and providing detailed cue-sheets and directions as well as features such as "return to start", finding addresses and coffee stops, etc.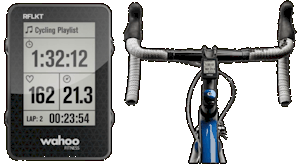 Most GPS units have programmable screens which can present exactly the information you require. Some have touch screens.
Other refinements include real-time links to social media and performance cycling websites so you can post live reports of where you are and compare your times to others who have previously ridden your section of the route.
Many of these advanced functions can be done by using an appropriate app on your GPS-enabled smart-phone. However, running apps of this type makes a heavy draw on the phone's battery capacity and limits their use to no more than a couple of hours. Dedicated GPS units will run over 12 hours in most cases.
However, new devices which use the processing capacity of your phone, but display data on a secondary screen on your handlebars while your phone is tucked away safely in your pocket or bike-bag, will be available shortly. This will radically extend the battery duration of your phone.
GPS computers run from under $150 to about $600. Detailed or specialist maps are extra. ANT+ accessories such as heart-rate or cadence sensors are around $60 each. ANT+ power-meters around $1500.
So, whether you're a casual rider just intent on a gentle saunter or in training for the next big event, a bicycle computer can provide everything from the basic "how far and how fast" to analysis of power output and performance and nice maps of your favorite routes.
---
Halter's stocks bicycle computers by Cateye, including the triple wireless heart-rate/cadence CC-RD430DW and, soon to be available, Strada Micro.
We carry the full range of Garmin Edge GPS enabled computers, sensors and accessories. Cateye Stealth GPS computers are on their way and we await news of when the Wahoo phone accessories will become generally available.
If you're seeking information on other topics click on any item in Halter's Tag Cloud in the right hand column of this blog …
---
Alan – That British Bloke
---