Before taking off on a bike ride you should always take steps to ensure you have an enjoyable ride and also be prepared for contingencies.
This isn't an exhaustive list, but it's a start. Use the check to get familiar with how your bike works and its general condition so you can spot issues before they become a problem or even a danger.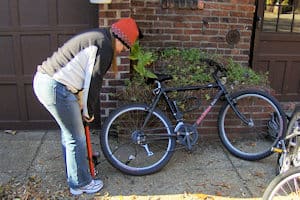 Air : Bikes roll best when tires are pumped to the correct pressure. You'll also resist flats better. While you're checking, also look at the condition of your tires; any cracks, bald spots, canvas showing through, etc. Wheels? Any loose spokes? Cracks/dents in the rim, wobbles? Is the wheel on tight?
You can buy a bicycle pressure gauge, but most floor pumps have a pressure gauge already fitted.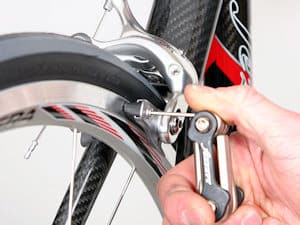 Brakes : It's great to go cycling, yes? But it's even better to be able to stop. Squeeze the brake levers. Is the action nice and smooth? No? Your brakes may need new cables, lubrication or adjustment. Do the levers come back to the bar-grips? That shouldn't be. Are the brake pads acting on the rim correctly? Are the brake-pads worn? Do they even work effectively at all?
Check your handle-bars are straight and secure … heck, check your seat is adjusted and secure too while you're at it.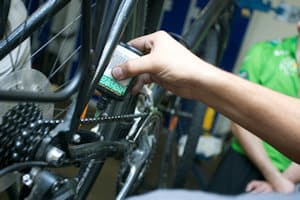 Chain : A rusty chain drags, changes gear poorly and may even snap. It's also an indicator of the general mechanical condition of your bike.
While you're down there lubing your chain check your pedals are secure and there are no clunks or grinding noises from the bottom bracket.
While checking your bike, keep your eye on the big picture. A well maintained bike is a safe bike.
Maintaining your own bike isn't rocket science, but it does demand a degree of knowledge and experience which can be found in your local bike shop.
Book your bike in for a basic safety check or full service to ensure your bike is in tip-top condition, but you still need to remember the ABC every time you take your bike out.
The workshop guys will be pleased to demonstrate a quick bike check to you when you pick up your bike.
Ride safe – and don't forget your helmet!!!
If you're seeking information on other topics click on any item in Halter's Tag Cloud in the right hand column of this blog …
---
Alan – That British Bloke
---