Some of the most frequent maintenance calls we get are from people with mysterious flats.
"I put it away in the garage last year and when I went to ride it yesterday the tires were flat."
Bike tires hold a very small volume of air compared to a motor vehicle tire and just a minuscule loss will lower the pressure drastically. Air leaches through the inner tube meaning that bikes should have their tires pumped at least weekly. High pressure road tires should be pumped to the correct pressure before every ride.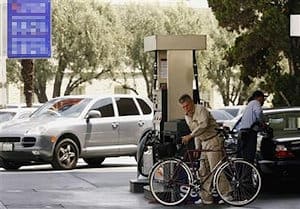 Keeping your bicycle tires pumped up is one of the most effective ways of avoiding flats. As well as making the bike easier to roll, flints and sharps have a greater tendency to glance off the surface of the casing.
An under-inflated tire will also be prone to the most common type of puncture, the pinch flat, or because this often occurs with two holes, the snake-bite.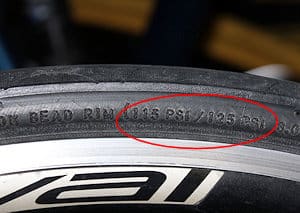 This happens when the inner-tube is pinched between the rim of the wheel and the road. Often it's associated with riding the bike up the kerb.
When you look at a bicycle wheel the tire is a tough outer casing supported by an inner-tube. Some bicycles have tubeless tires, but this is an expensive option. Generally when you have a flat it is because the inner tube has been pierced. The tire will have been pierced as well, but a structure of tough threads will usually leave the casing relatively undamaged and still serviceable.

In the US you are likely to come across two types of valve, the Presta – generally limited to higher end and high pressure tires – and Schrader found on mountain bikes and hybrid type bikes.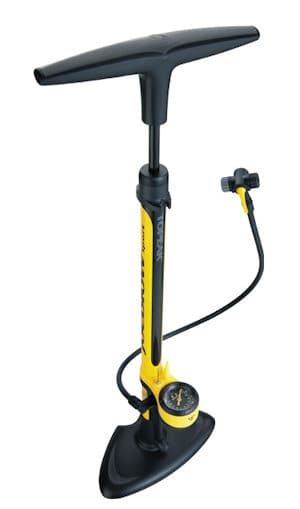 Most bike pumps will accommodate both types of valve.
Every household with a bike or a fleet of bikes should have a Floor Pump. This is the easiest way of inflating a tire to the correct pressure. You can use a vehicle foot-pump but you will need an adapter for presta valves.
A good floor pump will usually have a chuck which can lock onto either presta or schrader valves, and a pressure gauge.
It's a good idea when buying a floor pump to have the guys in the bike shop demonstrate its use and have a go yourself. You might be surprised how many "faulty" pumps are returned to the store because the owner didn't know how to prepare a presta valve – unscrew the brass cap, if you don't know …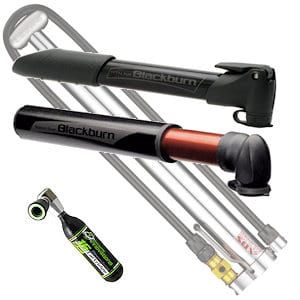 Of course there's nothing worse than experiencing a flat while out on a ride.
There are many types of portable bicycle pumps, from compact pumps to miniature floor pumps. Most of these will fit onto a bracket which can be fitted under a bottle cage. Some are small enough to fit in a seat bag or pocket.
All these will require much more work than a regular floor pump to inflate a tire, but they will get you home.
If you're looking for the smallest and most convenient device, consider a CO2 inflator. These will inflate a tire very quickly and get you home.
However, CO2 leaches through an inner tube very quickly so you may find your tire deflated the next day even though there is no puncture. Just re-inflate using a regular pump.
Also, make sure you are familiar with using a CO2 inflator before having to use one on the road – they can work rather explosively …
If you're looking for a full-size bike pump and your bike has pegs consider a frame-fit pump.
Halter's sell a range of floor pumps from brands including Blackburn, Cannondale, Giant, Joe Blow, Lezyne, Park Tools, Topeak, etc.
We also have a fine selection of portable pumps by Blackburn, Cannondale, Giant, Lezyne, etc, and CO2 inflators by Genuine Innovations, SRAM and Zipp.
If you're seeking information on other topics click on any item in Halter's Tag Cloud in the right hand column of this blog …
---
Alan – That British Bloke
---