Every bike has a unique frame or serial number. Have you made a note of yours?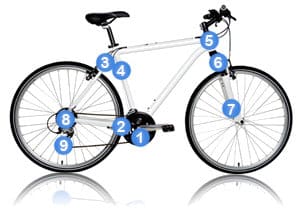 This number is useful if, unfortunately, your bike is stolen and is reported to the police or you need to make any other insurance claim.
Your bike's frame number will most likely be stamped into the bottom bracket – point 1 – or the rear drop-out – point 8.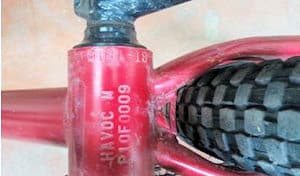 You should make a note of this number, maybe write it in your owner's manual. It's also a good idea to keep receipts for the purchase of expensive accessories or components.
Halter's keeps no records of frame numbers so make sure you make a note. Hopefully, it will never prove to be necessary.
You can find out information about bike locks here …

If you're seeking information on other topics click on any item in Halter's Tag Cloud in the right hand column of this blog …
---
Alan – That British Bloke
---