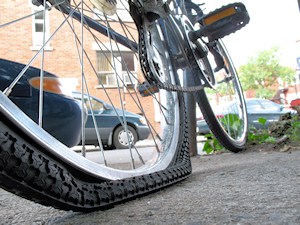 Let's be clear about flats. Flat tires, that is.
Never a day goes by in Halter's when we don't fix at least a dozen flats. And hardly a day goes by when we're not asked what the warranty is on a flat fix.
Well, of course we warranty our flat fixes.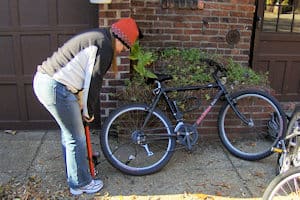 However we can't warranty that you will not have a flat the next time you ride the bike, pick up a piece of wire while rolling your bike from the shop to your car, that the tire will still be inflated next year or that you wont be back in next week saying you've had three flats in the last month; "What is Halter's going to do about it?"
Well, again we'll fix it, charge you the going rate and warranty that fix, but not that you won't flat again even by the time you've rolled the bike out to your car.
Believe me, your tire is under attack from the moment you roll it out of the shop and then any puncture is just down to The God of Flats or lack of awareness and maintenance.
When a customer brings in a bike or wheel in need of a flat fix we always check the damaged tube and tire for evidence of how the puncture occurred.
Typical evidence includes;
A single pin-hole – sorry, there really was a bit of wire or tack in your drive or even in your garage. We don't prick a hole in your tube just to make extra business. There's no money in fixing flats. Really!
A "snake bite" – two holes typically caused by running tires under-inflated or running the wheel into the ground. Offspring says s/he didn't smash the wheel up the kerb? Really?
Tear around the valve stem – careless inflation though poor technique or the wrong pump.
Inferior quality wheel with built-in sharps including poor welds, untrimmed spokes, poor quality rim tape. Buy a quality bike from your local independent bike store!!!
We nearly always explain the evidence to the customer.
But sometimes it is just bad luck.
However, you can minimize the risk of getting a flat by ensuring your tires are correctly inflated before every use and checking your tires haven't gathered any shards of glass, flints or even wire from vehicle tire debris after every ride. And watch where you're steering … if you ride in the gutter you're going to pick up all sorts of problems.
More information about maintaining your tires here …