As the last leaves are falling off the trees thoughts turn to the winter. Yes, it's possible to cycle through the winter, but you need to be prepared …
Prepare Your Bike : Riding cold salty pot-holed roads takes a huge toll on your bike. Salt etches away at frames, paint jobs and metal finishes, and grit and grime gets into bearings and friction surfaces accelerating wear and shifting mechanics out of adjustment. So if you have the choice don't use your pride and joy.
Rather, pick a bike you can adapt without worrying ruining its expensive good looks. More than ever, ensure your choice is well-maintained and tuned up.
Nothing is as miserable as a preventable mechanical holding you up just as the street lights turn on and the sleet moves in. And of course, carry a small tool- and flat kit just in case.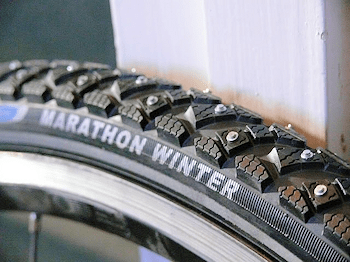 Tires : In the winter flints, glass and rough roads subject tires to the limit. If you're riding regularly throughout the season consider running heavier duty and wider tires on your road bike. Most road bikes will take 25mm wide tires and many will run 28mm wide tires.
Consider something like Continental 4-Seasons if you're looking for toughness and performance. Continental GatorSkins provide great flat protection at a lower price and if you're looking for the ultimate in winter protection look at the Schwalbe Marathons. If you're regularly riding on ice and snow look at getting studded tires for greater control and security.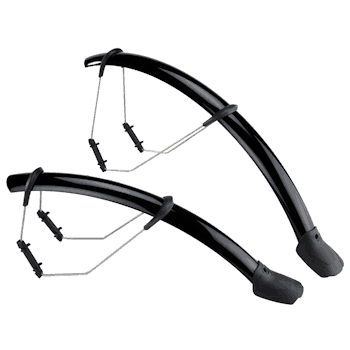 Fenders : Nothing says winter riding like the black streak up your back which accumulates after almost any ride. Fenders or mudguards not only protect you from the spray which splatters up your bike, but also helps protect the rest of the bike from excessive exposure to the elements and dirt.
Some bikes have fittings for fenders, but it's possible to fit fenders to almost any regular road bike or hybrid.
Clip-on types are also available if you want the option of removing the fenders on fine weather days.
Stay Warm : Of course, you need to stay warm. As well as wearing winter-specific jackets and tights look after your extremities. Winter cycling shoes are, of course, ideal, but start with Merino wool socks. Wool can carry its own weight in water before it even feels damp and provides better insulation than most synthetics.
Insulated and water-proof shoe covers will help keep most feet warm. Use toe-covers if you're looking for something you can stick in your back pocket as the day, hopefully, warms up.
Also, check your shoes for cooling vents. Some have the ability to be shut. Otherwise seal them up with some duct-tape or similar.
Lastly, resist the temptation to make your feet too snug. Leave enough room for circulation to help keep your feet warm.
Hands, of course, also need protection from the cold and wet. Choose a full finger, insulated glove, preferably with a high-tech synthetic barrier such as WindStopper or similar. Some people find their hands fare better in a mitten or lobster-claw variation. I find silk glove liners really help.
Heads are usually covered by a helmet, but features which make for a great summer helmet, like cooling vents, may prove too chilly for the winter. Look for a thin cap made from WindStopper or other synthetic which will help prevent heat loss through the top of your head and cover your ears. You might want to consider a face-mask or balaclava in really nasty conditions.
Get Lit Up : Never has effective bike lighting been so good and so available. Virtually all lights now use very bright and efficient LEDs, and many are re-chargeable. Re-chargeable lights cost more, but most are capable of, at least, 600 charging cycles. When looking at a regular battery light remember to factor in the cost of 600 sets of DuraCells into the true cost. A bright rear light is absolutely essential with most having a selection of steady and pulsing modes. Rear lights output from about 10 lumens of red light up to about 50 lumens.
Front lights fall into two types; conspicuity lights and headlights. Conspicuity lights feature a very bright, wide field beam which only minimally lights up the road, but ensures you will be seen – about 50 lumens to 100 lumens.
Headlight focussed beam lights tend to be more expensive, but really light up the road or trail, depending on their power – from about 300 lumens to 2500 lumens. Around 700-1000 lumens will be plenty for most road riders and commuters. The more powerful lights are for off-road use, although the extra power can be useful on the road too.
---
Visit Halter's for :
Clothing by : Gore, Pearl Izumi, Castelli and other fine makes
Lights by : Blackburn, Cateye, Light & Motion and Knog
And, of course, we'll tune-up and prepare your bike too …
---
If you're seeking information on other topics click on any item in Halter's Tag Cloud in the right hand column of this blog …
---

Alan – That British Bloke
---