It's that time of the year again when, if you don't already have a bicycle helmet, you should be thinking of getting one. And even if you already have a helmet it might be time to think of getting a new one.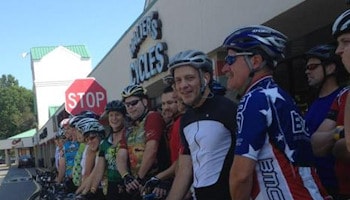 All the gals and guys at Halter's wear a helmet whenever riding a bike, no matter if on the road, on the trail, or just cruising around the neighborhood.
In fact, most of our customers think that way too, although, in New Jersey it's not the law that you must wear a helmet when cycling.
However, it is the law in NJ that children must wear an appropriate helmet even if they're just a passenger on a bicycle.
There is an argument that there is no need to wear a helmet, and indeed it is a personal choice.
It's true that in more cycle friendly cultures very few people, even children, wear helmets and the accident/injury rate is lower than in most helmet wearing societies.
Unfortunately, this happy situation does not apply in the US, and on balance we strongly recommend every cyclist wears a helmet.
Helmets really do have a limited life in use. Any helmet that has already taken a hit in a crash should immediately be replaced.
Helmets that have been subject to sunshine, UV, sweat and extreme temperatures should be replaced every two or three years. If the adjustment pads are rotten or missing, you can replace them, but their condition is a good indicator of the state of the rest of the helmet.
Helmets are not just a chunk of poly-foam, but at the very least have an interior structure and reinforcements which can degrade over a period of time or can be disrupted and made less effective once it's taken a hit and done its job.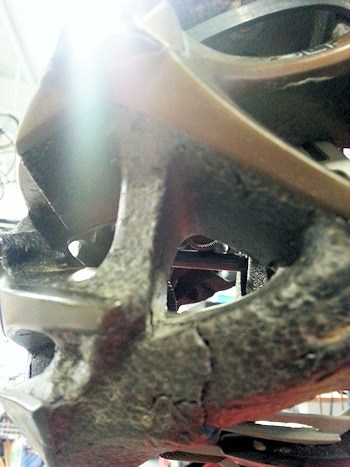 Halter's wrench, Tripp, recently took a fall as his helmet shows here. His GPS showed an instant 21mph to zero and, typically for a mtb incident, the helmet protected Tripp from a strike to the back of his head.
Helmets designed for MTB use tend to give more protection to the back of the head for this reason. They also usually include a peak which provides some eye protection in the woods.
Road helmets tend to give more protection to the temples and don't have a peak to make looking forward when on the drops easier, but riders who wear glasses may find a peak a benefit.
Regardless, most riders wear whichever helmet is most comfortable and suits their needs whether they're on the road or the trail, or just around the neighborhood for that matter.
All helmets on sale at a quality independent bike store will usually comply to at least two out of three of the principal international standards whether they cost $40 or $400.
US, European and Australian certifications and requirements are slightly different, but in practice any helmet which meets any one of them promises the best protection available regardless of cost.
More expensive helmets will be sized for a better fit, be lighter, enable better air-flow, be available in more colors, and have many detail enhancements, which may or may not be important to you.
Halter's sell helmets by Bell, Cannondale, Giro and Lazer.
Be sure you start the season with a safe helmet.
You know it makes sense …
---
If you're seeking information on other topics click on any item in Halter's Tag Cloud in the right hand column of this blog …
---

Alan – That British Bloke | OldCranksCC Forum
---