One of the big developments in bike electronics in the last few years has been the adoption of GPS capability for bike-mounted computers.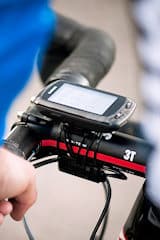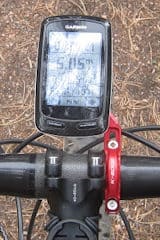 In the past bicycle computers have displayed your speed, distance traveled and other real-time information.
GPS-enabled computers now have the ability to track your route for uploading to your favorite mapping website, communicate with other devices, such as a heart-rate monitor, cadence/speed sensors, power-meters, your phone and even your bathroom scales.
Riders requiring real-time mapping will have to consider the Garmin Edge 810. This computer is able to display your position on a graphical map, as well as record all aspects of your ride, communicate with ANT+ devices such as HRMs, cadence/speed sensors and power meters.
So, do you have or are considering a Garmin Edge 810? Here are a few things that might help make the most of its ability to use and display maps.
Most of this also applies to the Garmin Edge 800 although the settings menu will vary slightly.
Unless you buy the complete Garmin 810 kit the unit will require an .img map file in order to be able to display a detailed topographic map on screen. This is normally stored on a MicroSD card supplied with the kit and slotted into the 810.
You can purchase the Garmin US City Nav map if you don't already have it, or you can search for, and download a US map from OpenStreetMap.org for free. This is a little tricky so you can also try here … for the latest version. Warning: This is a huge file – 3GB+ – probably best to avoid doing this if you have an expensive data tariff or you're roaming.
The Garmin map comes on its own MicroSD card. If you're going to source your own map then an 8Gb MicroSD card is a good start. I find a 16Gb card works okay on my Garmin 810.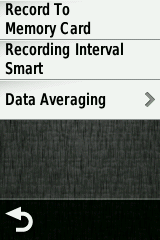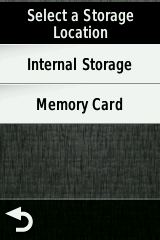 To install the map, first of all insert the card into the Garmin and using Settings >>> System >>> Data Recording >>>  Record To xxxxxx  >>> Select Memory Card.
Return to the Front Page and press the Start/Stop button to start recording for a few seconds. You don't need to be riding the bike for this process. The Garmin will format and install a series of folders onto the MicroSD card.
Turn the device off and connect to your computer via a USB cable. Using your file explorer you should see something like this – Mac users should be able to recognize a similar layout. Drive letters will vary.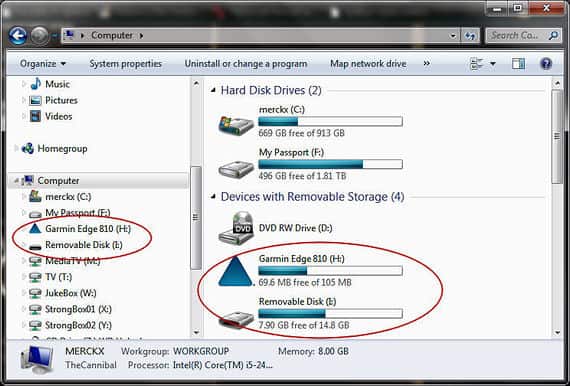 Click on Removable Disk and you should see the Garmin has installed a series of folders onto the card, the root being Garmin and a series of sub-folders.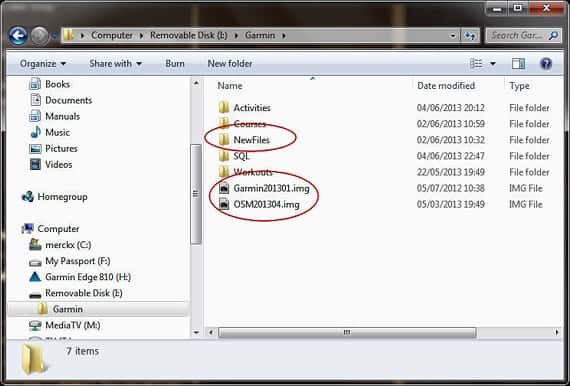 If using the OSM map copy it into the Garmin folder. In my case I've also installed the Garmin map, but given both maps distinctive names – xxxxx.img.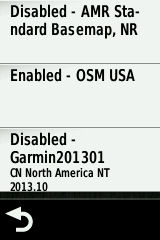 This means I can switch between maps in my Garmin device. There's no real advantage in this other than it can be done, but if you're intending to use the Garmin abroad it would be useful to have, say, North America and European .img files on board.
To reach the Garmin 810's map selection setting which can be set differently for each Activity Profile you might have on your device go Settings >>> Activity Profile >>> Navigation >>> Map >>> Map Information Select Map >>> select your map.
I've included a comparison between the Garmin map and the OSM map. OSM includes more topological info in the display in the form of trees and other representations.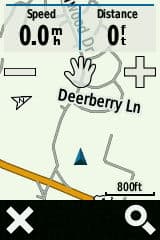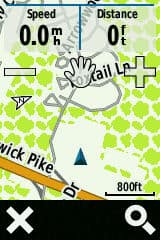 Both differ in terms of local road detail, neither for the better in this regard.
Next: Using Cue Sheets / Turn-by-turn display on your Garmin Edge 810/800.
---
If you're seeking information on other topics click on any item in Halter's Tag Cloud in the right hand column of this blog …