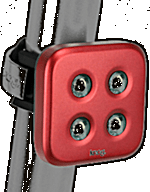 Summer is a coming, but we're still big exponents of using a rear light even on the sunniest day, let alone during the encroaching evening.
Being seen from the rear is crucial on a bicycle. Of course, it's good to be seen from the front as well, but you do have the advantage of seeing what's coming at you.
Even on the brightest day a bright red light flashing towards the rear will enhance your security. Imagine a sunny day as your country lane dives under the trees and an SUV driver, complete with dark, dark shades just seeing a pool of dark under the branches as they close in behind you at 50mph … that red strobe in the darkness can only help.
Lighting technology is developing by leaps and bounds and none more-so than in the field of rear lights. A good front light is still going to cost you more than $100, but an effective, rechargeable rear light is going to cost you less than $50.
Remember that these lights can be recharged at least 600 times. Imagine the cost of 600 sets of DuraCells …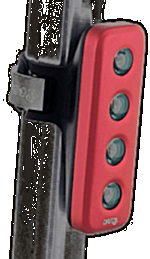 Most of us at the bike shop have taken to the Knog range of Blinder lights.
All are rechargeable via a USB slot on your computer or USB phone charger and give several hours on flash.
They are available in a number of configurations, the Blinder4, the Blinder4V and the minimalist Blinder1.
All three fit, with what amounts to a sophisticated elastic band, onto the seat post of your bike. They can also fit elsewhere on the bike or on a helmet in most cases.
The Blinder4 is best if you don't have a lot of seat-post showing and the Blinder4V if you have more room.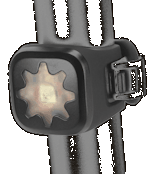 The Blinder1 is smaller and is just right if you are looking for an effective light-weight rear light.
---
If you're seeking information on other topics click on any item in Halter's Tag Cloud in the right hand column of this blog …
---
Alan – That British Bloke
---