Over the years the basic bicycle has evolved into a number of configurations, some good for general use, some with specific intentions.
So which bike is best for you?
Cruiser bicycles : A long wheel-base and low center of gravity makes for a very stable ride and comfortable upright stance for the rider.
These bikes are excellent for cycling around your neighborhood or round town. They will also negotiate smooth off-road routes like the canal tow-path and trails through parks.
The low seating position makes it easy for anyone to get their feet onto the ground so it's perfect for the nervous rider.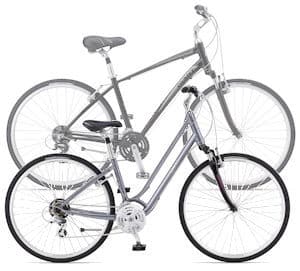 Cruiser bikes are not so good if your rides include a lot of hills or you're intending to take on longer, more ambitious rides.
Hybrid Bicycles : If you want to break out of your neighborhood on your bicycle and ride as part of a healthy life-style regime then a hybrid bicycle could be for you.
Hybrids will keep you in an upright stance, but in a higher, more efficient position which makes climbing hills and cycling longer distances rather easier than on a cruiser.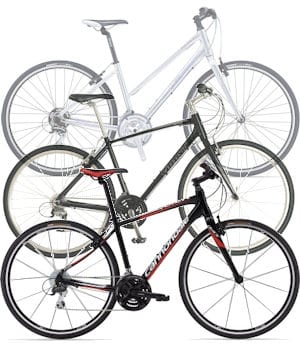 You can find out more about hybrid bicycles here …
Sports and Fitness bicycles : These bikes are a lightweight, non-suspension, development of hybrid bicycles. Almost, but not quite, straight handle-bar road bikes, but still capable of riding made up paths and trails, these bikes appeal to the person seeking to expand their bicycling horizons and get a bit of a workout at the same time.
Higher end S&F bikes are approaching the cost of a good road bike, so if you're considering purchasing at this level seek the advice of your local bike store to make sure this type of bike really is for you.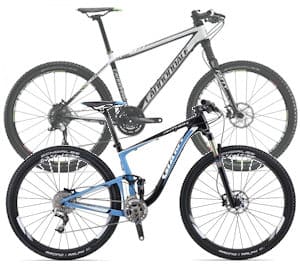 Mountain Bikes : For many people this is their entry point to cycling.
Traditionally, MTBs have been characterized by fat 26″ tires, but now most of our higher end bikes use 29″ wheel (29ers), the same diameter as a road bike, but wider.
MTBs have their own sub-genres; XC, all-mountain, downhill, freeride, etc.
The NJ terrain was made for hard-tail 29ers. Their ability to roll over the typical surface here will suit most people.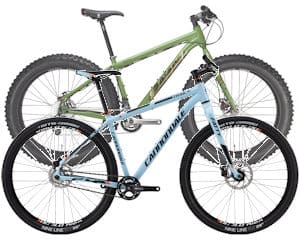 If gnarly, rocky trails are your forté then consider a full-suspension bike, although at any price point a hard-tail will have superior components to a full-suspension bike.
Further developments of MTBs include the Fatbike with immense wheels capable of rolling over soft, granular surfaces such as sand or snow, and the Single-Speed MTB, no gears, no suspension for the back-to-basics crew.
Road Bicycles : If you want to ride the maximum distance with the greatest efficiency then you must consider a road bike. Don't be put off by skinny tires, narrow saddles and drop-handlebars. These bikes are designed to be ridden over many miles, hundreds, even thousands of miles. No one will do that if they're uncomfortable on their bike.
All road type bikes offered by Halter's are only sold with a personal bike fit. This is by appointment only – just call the shop – and can last a couple of hours, but will certainly provide you with the best, most comfortable and efficient ride within your budget.
Road bikes fall into a couple of categories; men's and women's and performance and comfort/endurance.
Don't get too caught up in definitions. The right bike is determined by an arcane formula determined from its intended use, your height, proportions, flexibility and just how you feel when riding it.
Taller women will fit a "men's" frame better, and shorter men with proportionately long limbs may suit a "women's" bike. Classic road races have been won on "comfort/endurance" frames and tall guys with short legs may find a "performance" frame more comfortable.
So what we're saying is, "It all depends …". Only a professional bike fit can determine this for you.
There are also a number of variations of road bike built to accommodate different challenges.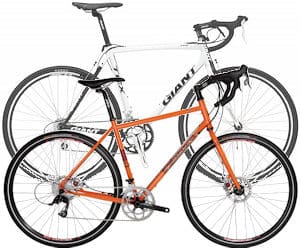 Cyclo-cross Bicycle : Cyclo-cross (CX) is a huge sport in the winter in Europe where riders race on short courses across fields and park lands either in mud or freezing temperatures … Sounds like fun, huh?
Well, there is a thriving CX scene here in the US if you feel the need.
However, CX bikes also make excellent commuter bikes because of their ability to accommodate wider tires, fenders and luggage racks.
Touring Bicycle : Whether you're a credit card tourist flitting from B&B to B&B, or riding a self-sufficient epic coast-to-coast ride, the appropriate touring bike will help you eat up the miles while specially adapted to carry the necessary paraphernalia – tent, sleeping bag, stove, clothes, etc.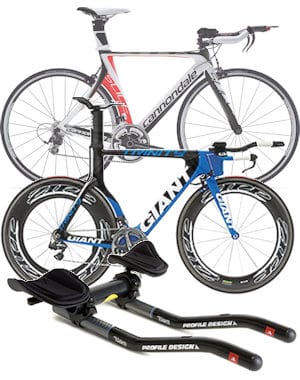 Triathlon or Time-Trial Bicycle : First time customers often present themselves in the shop with the purpose of buying a tri-bike.
Be in no doubt, a tri-bike is the most specialized and focused bike we sell.
In comparison to a regular road bike tri-bikes have delicate handling, less efficient brakes and comfort can be compromised by the need to get from A-to-B as fast as possible. Most bike clubs also prohibit tri-bikes on club rides.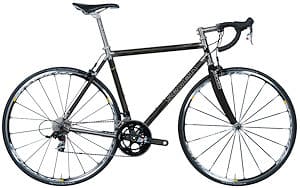 Most committed triathlon customers ride a regular road bike for training and transfer to their tri-bike just prior to competition. Road bikes can be adapted with the addition of a tri-bar and some fit work which is more than good enough for most competitions.
Custom-Built Bicycle : If you have very particular requirements, or if only the best is good enough, then consider having a bicycle tailored and hand-built for you. Nothing will work for you better.
After a personal consultation with our expert bike fitter, Seven Cycles will build you a frame from steel, titanium, carbon fiber or a blend which will fit you like a glove and have exactly the characteristics you specify. Halter's will then add the finest and most appropriate components for the most exclusive bike you will ever own.
Of course, expect a price in the five-figure range …
Halter's sell bicycles and frames by: Cannondale, Electra, Giant, Salsa and Surly. We will also build you a bike to your specification from a fixie to the ultimate bespoke bike from Seven Cycles. We also sell frames from a number of makers including All-City and Tom Ritchey.
If you're seeking information on other topics click on any item in Halter's Tag Cloud in the right hand column of this blog …
---
Alan – That British Bloke
---