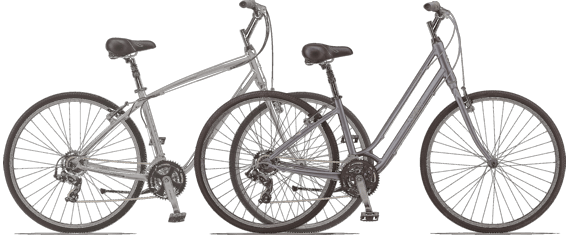 If you're looking for a bike that can cruise round your neighborhood, take a ride on a canal path or trail through your local park and commute around your town, then a hybrid bike might be the one for you.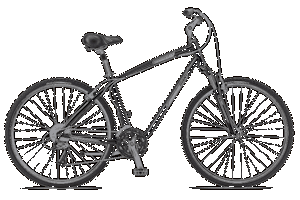 Hybrid bicycles blend characteristics from more specialized road bikes, touring bikes and mountain bikes to create a general-purpose, user-friendly bicycle. Their stability, comfort and ease of use makes them popular with beginning bicyclists, casual riders and urban commuters.
Hybrids may integrate the flat handlebars, upright posture and brake system of a mountain bike. They may also have numerous accommodations for accessories (front and rear racks, water bottles, and fenders) typically found on a touring bike.
Many also have the larger wheel diameter (e.g. 700c) and lighter components of a road bike — and a rim/tire configuration that falls between the road/touring bikes and mountain bikes.
Basic hybrid bikes will have rigid forks, but probably a suspended seatpost to absorb the bumps in the road. Higher end models will use a suspension fork for further comfort.
Halter's favorite basic hybrid bike is the Giant Cypress available in a number of variations, from rigid forks to suspension forks. Higher end models also feature better drive-train and brake components. Cypresses are available in regular (men's) and step-through (women's) frames.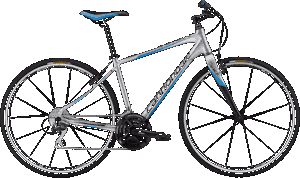 Sports and Fitness bikes are a recent development of hybrid bikes. With lightweight frames and more responsive geometry, these are almost straight handlebar versions of drop handlebar road bikes, but with a more relaxed frame geometry.
Rugged enough to be ridden on a trail, these bikes are most suitable for the rider who sees themselves riding several miles on the road for an extended workout.
Check out the Cannondale Quick or Giant Escape for the best in in Sports and Fitness hybrids.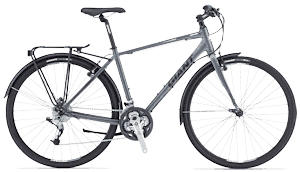 Commuters looking for a less costly and more rugged alternative to a road or cyclo-cross bike for their daily commute or just running errands should try the Giant Escape City.
Available in men- and women-specific configurations, these bikes feature fenders, kick-stands, racks and other accessories useful to the utility cyclist.
Just add lights and panniers and you could transform your daily commute as well as save the planet.
For people looking for a more challenging experience without making the jump to a mountain-bike take a look at the Giant Roam.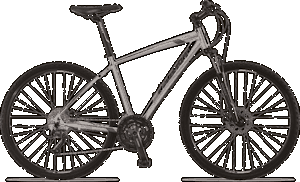 Rather lighter than a mountain-bike at this price point, the Roam features front suspension, which can be locked for riding on the road, hydraulic disc brakes and other advanced components.
There are a lot of good reasons for buying a hybrid bike, a Jack-of-all-trades.
They are great bikes which do exactly what they say they will, but if you have greater ambitions; regular 20-30+ mile road rides, cycling as part of a committed exercise regime, serious off-road/cross-country adventures, touring Peru, then get into your local bike shop and ask their advice, try a few bikes. Find out what exactly meets your needs.
Halter's stocks a full range of hybrid bicycles by Giant and Cannondale. We can also advise on alternatives by other makers such as Electra and Salsa.
Come and try them out.
If you're seeking information on other topics click on any item in Halter's Tag Cloud in the right hand column of this blog …
---
Alan – That British Bloke
---