Let's just spend a moment and think about our feet on a bike ride in winter. Speeding along, a few inches above a freezing and frequently soaking wet surface in shoes designed to keep your feet cool in summer. No wonder they get so cold …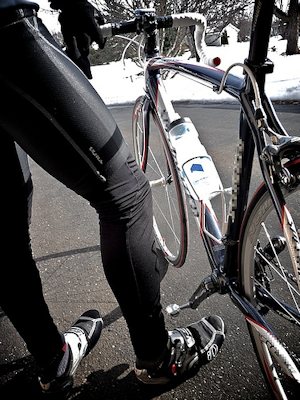 So, to start at the beginning, many cycle shoes have vents in the sole and/or elsewhere. Take out the insole and cover the vents with duct tape.
Metal mountain-bike cleats can act as heat-sinks transferring warmth from your foot to the pedal so a couple layers of tape over the backing plate inside the shoe can help.
Look for merino wool socks. Don't be tempted to wear socks which are too thick. You don't want to restrict circulation. Wool can carry its own weight in water without feeling damp, and still maintain 70% of its insulation value. No synthetic comes close.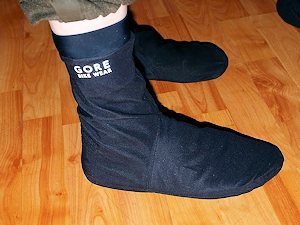 Toe warmer sachets may also work for you and can provide warmth for up to 6+ hours. These require space for a bit of air to circulate and feed their heating action.
Other next-to-the skin options include Goretex or neoprene socks. These cut wind-chill effects and thermal transfer, but may feel bulky inside your shoe. Personally, I like silk sock liners, available from some outdoor suppliers – an old motorcyclist's tip.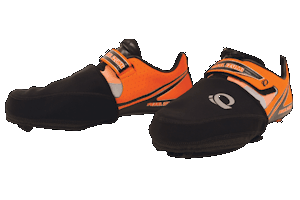 Toe covers are great for when it's not too cold, or it's going to be one of those days which starts chilly but ends up nice and warm by the middle of the day. They also stow easily in your back pocket when they're not required. Toe covers usually just stretch over the front of your shoe and are secured by an elastic strap.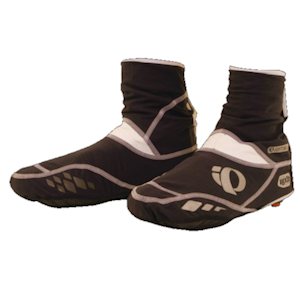 If you're more intent on serious winter riding or commuting, then you'll appreciate the warmth and protection a full winter shoe cover can give you. The fabric may be neoprene, Goretex or other proprietary material, providing wind protection, insulation and water resistance.
Most covers are designed to fit very snugly. So if you're looking for them bring your shoes to the shop to try different models and sizes for the optimum fit. Most are secured by a zip or velcro at the back. Prices are from about $60 to around $100 for the heaviest duty Goretex lined models.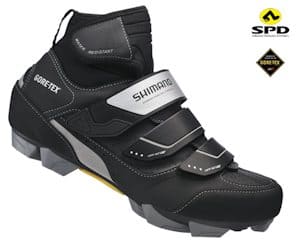 If you're looking for maximun warmth and protection you should consider a dedicated winter cycling shoe. Most incorporate a thermal/moisture barrier and are usually in an ankle boot type pattern.
Winter shoes are available in mtb and road pattern, but most riders prefer the mtb type which gives much better grip and security on slippery roads and paths. Consider winter road shoes if all you're ever going to do is teeter from bike to coffee shop.
Halter's stocks a full range of winter gear for your feet from Gore Bike Wear, Pearl Izumi, Cannondale, the Sock Guy and other good manufacturers.
---
If you're seeking information on other topics click on any item in Halter's Tag Cloud in the right hand column of this blog …
---

Alan – That British Bloke | OldCranksCC Forum
---