It's one thing to buy a good lock. It's another thing to use it correctly. Honestly, if anyone really wants your bike they will take it. However, locking up your bike securely will put off that person who just wants a ride home or something to sell. At the very least it may just persuade them to steal a less secure bike because it's easier.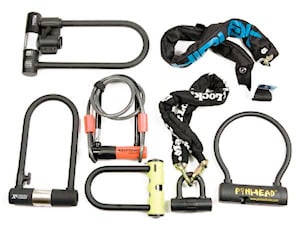 These valuable tips come from road.cc:
Lock your bike to a secure, immovable object. Trees and certain pieces of street furniture don't make particularly good locking locations; trees limbs can be sawed through, and your bike can often be lifted over bollards and signposts.
Your wheels are the most vulnerable part of your bike. Make sure that your lock goes through both wheels and the frame, or use two locks: one for each wheel. Alternatively you can invest in a locking wheel skewer for your front wheel.
It doesn't take long to steal a bike. Make sure that you lock your bike up properly whether you are leaving it for 30 seconds or half an hour.
Bike lights and other items and accessories that are not secured to your bike are easy pickings for thieves. Take them with you whenever you leave your bike.
No matter how safe you feel in your home, your bike is still at risk, especially if it's in your garage or your shed. Lock it up at home like you would if you were on the street.
Not all bike locks are cheap, but you really do get what you pay for. If you treasure your bike, buying the best locks that you can afford would be a wise investment.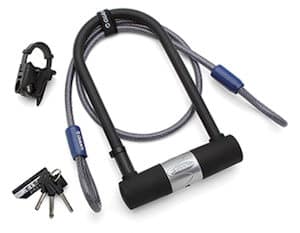 Consider using a registration service, to physically mark your bike with an identifying feature and link it to your identity on a database. Some towns and police departments offer free solutions, and there are alternatives.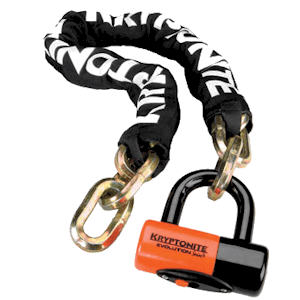 The "New York" Bike Lock – probably the most secure, but it is probably heavier than your bike
If it does go missing you must report it. The police will only take bike crime more seriously if they have reason to do so.
If you're down to one lock, or are particularly worried about the security of your wheel, taking your front wheel with you eliminates half of the risk of theft immediately.
Use secure bike parking wherever possible. Even for a price, your bike will be far better protected from theft inside a designated secure location rather than on the street, no matter how well you think you've locked it up.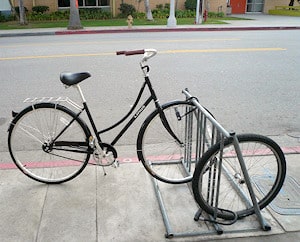 Make sure that you lock your bike up in as public of a place as possible. If you leave it in a secluded location, it will give any would-be thief time to work on your lock undisturbed.
Make the lock mechanism itself hard to access. For example if you're locking your bike to railings, point the lock mechanism away from the street so it's harder for a thief to attack.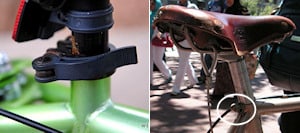 Don't leave space in your shackle – any extra space gives evil bike stealing tools the room they need to do their dirty work. Don't give them that opportunity.
If you've taken out insurance on your bike don't buy any old lock. Make sure that the locks that you have purchased are featured on your provider's approved products list as some insurance companies insist on their use.
But most importantly, wherever you're going, please do not forget your lock!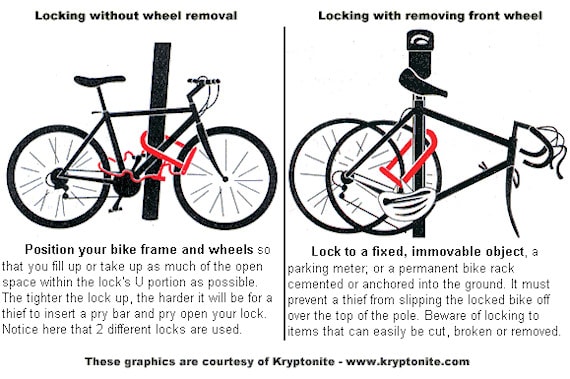 Halter's sells a range of locks from Abus, Blackburn, Knog, Kryptonite and other good manufacturers. Let us advise on what's right for you.
---
If you're seeking information on other topics click on any item in Halter's Tag Cloud in the right hand column of this blog …
---

Alan – That British Bloke | OldCranksCC Forum
---