Most cyclists would probably consider the most useful bike accessory is a car to carry your bicycle to nice places to start your ride.
Many people seem to manage by carrying their bicycle inside the car, but if you need to carry passengers or more than one bike, then this becomes impractical. Also, a large percentage of damage to dérailleurs, hangers and computer harnesses which are presented to bike shops are caused by crushing the bike into a car.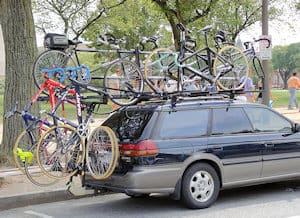 A bike carrier frees up the inside of your car and decreases the possibility of damage to the bike.
There are several types of bike carrier, and naturally, the best solutions tend to be more expensive.
So, you've bought the first bike you've had since you were a teenager and you want a way of carrying your new bicycle around.
The entry point for most people is the strap-on bike rack which hooks onto the trunk of the car. These racks can carry up to three bikes. Some single carriers are available, but there will always be a time when you want to carry any extra bike.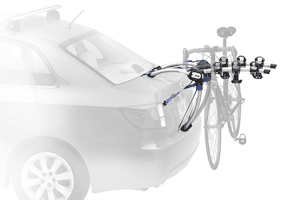 The selling point for this type of rack is that they tend to be less expensive, from about $120 to $300 for more sophisticated carriers with super secure mounts, locks and anti-sway devices.
On the down side, this type of rack will eventually mark your car. Naturally, racks have pads and fittings designed to minimize damage to the car bodywork, but in the end there may be scratches, even dents where the rack sits.
If your car has a wing on the trunk it's likely this type of rack won't fit. Many station-wagons and minibuses have a plastic top to the rear door which means it cannot take the weight of a bike rack. Also, you may not be able to open the trunk with the rack fitted and it may interfere with a rear wiper.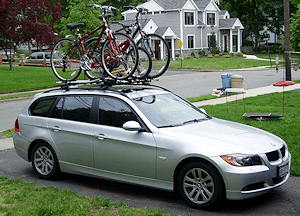 When people consider their first bike rack they often think of a roof-rack. A loaded roof-rack full of bikes looks cool and gives you the feeling of bowling along as team support in the Tour de France. Basically it looks totally professional.
However, unless your car already has rails and cross-bars this is the most expensive of all your bike carrying options, as well as hacking into your fuel economy. And don't forget, if you're not that tall you will have a problem raising even a lightweight bike onto the roof of a car, let alone onto a minibus.
There are a number of means of securing a bike to a roof-rack depending on the type of bike you have. If you also want the facility to carry kayaks, skis and surfboards this may be the best way to go.
If you're starting with a naked roof, then expect to pay from at least $500 and probably a lot more.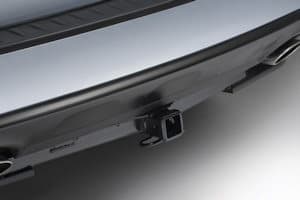 Most of the racks we sell are hitch-racks, that is a rack which locates in the receiver of a tow-hitch. This means that neither the rack, nor any of the bikes fixed to the rack ever touch the bodywork of the car. Of course, your car has to have a hitch in the first place which means, if you don't already have one, having one fitted.
If you go to your car manufacturer's main dealer this is likely to be very expensive, but many independent car shops will be happy to fit a hitch for a lot less. Some smaller cars are not rated for towing but it is still possible to have a hitch fitted for the purpose of attaching a bike rack.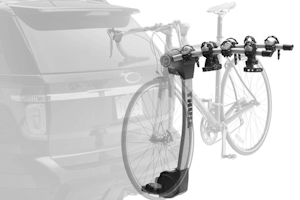 Most hitch mounted racks are of the hanging type where bikes are suspended from their crossbar on a set of parallel rails. There are 2-, 3-, 4- and 5-bike capacities. 5-bike models are only available for 2.00″ receivers.
Most racks have the facility to fold the carrying arms down when not carrying bikes, and drop away to enable rear doors and trunks to be opened. There is a model designed to swing away from the rear to facilitate easy access.
There are restrictions with this sort of rack. If your bike frame is very small you may have to be creative loading it onto the rack. And step-through frames may require a frame adaptor to enable the bike to be carried safely.
A basic rack of this type will cost from around $240. Expect to pay around $400 for a fully featured rack. There are also light-weight aluminum versions available.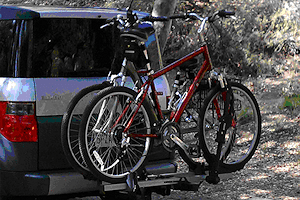 An alternative type of hitch-rack is the platform type. Bikes are sat on a rail and an arm ratchets down to hold the bike steady.
On some models only the wheel is held so no part of the rack can mark the frame of the bike. The rack can be folded up against the rear of the car when not in use. Most racks of this type carry two bikes, but some models on 2.00″ receivers can be extended to carry four bikes.
If your ability to lift a bike is restricted then you should consider this type of rack because the bike sits low on this type of carrier.
Expect to pay around $400+ for a platform rack.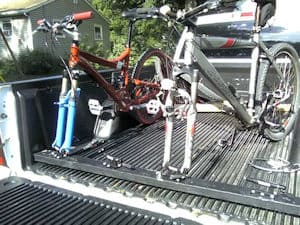 There are several bike carrying solutions for trucks. The most basic being a fork mount bolted onto an adaptor or even a block of wood.
Other devices include tailgate pads and other securing devices.
Vehicles which carry a spare tire on the rear door present a number of problems. Usually the receiver/rack combination holds the rack too close to the car and interferes with the spare wheel.
Hitch extenders are available but are not recommended by rack manufacturers or Halter's.
A rack such as the Thule Spare-Me fits onto the spare wheel holder and makes a very secure fit for up to two bikes. There is an extender for wider spare wheels, but the rack may not be able to adapt for the widest ones.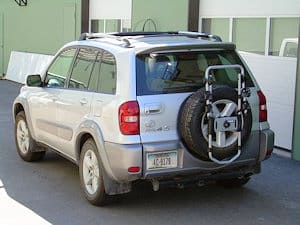 Other carriers clamp onto the spare wheel itself, but are possibly not as robust as the Spare Me.
All rack manufacturers offer accessories such as locks, cables, adaptors for non-standard wheels and frames, receiver locks, etc. A good manufacturer offers excellent warranty support and rugged design.
It's surprising how many people are happy to trust thousands of dollars worth of bike to a $50 big box store bike rack. Bike shops sell rack they probably use themselves. Trust their advice.
A biker carrier enables you to extend your cycling horizons. Quiet roads, challenging trails, rail trails are all possibilities to ride with family and friends. Enjoy …
---
Halter's stock the Thule range of bike carriers. Expect to have to special order roof-rack adaptors – there are thousands of variations. Halter's also stock selected Saris racks. We will be happy to fit your new bike rack to your vehicle at the point of purchase from us.
---
If you're seeking information on other topics click on any item in Halter's Tag Cloud in the right hand column of this blog …
---
Alan – That British Bloke
---