It almost goes without saying, that being seen by other road users is one of the greatest aids to cycling safety.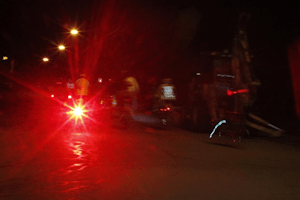 Many strategies contribute towards the overall aim of riding safely on the road. Helmets, conspicuous clothing and your own awareness and tactical riding skills are effective ways to avoid harm on your journey. And most riders will also accept that effective lighting also is essential when the day starts to wind down and changes into night.
But a good rear light can also be a life-saver at any time of day, even in the summer where brightly lit roads dive into deep cover under trees and bridges. A flashing blinky light will draw the attention of the motorist, approaching from the rear, from behind their tinted windows and designer sunglasses, to cyclists already immersed in the Stygian gloom.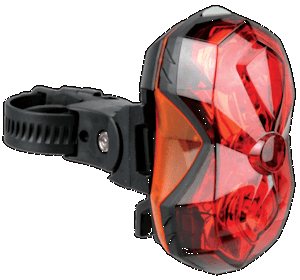 Virtually all modern bike lights have a number of modes from a steady bright light to various patterns of strobe, pulsing or flashing. Most modern lights are starting to include a pulse pattern. The early strobe pattern – ON–OFF–ON–OFF – is thought to make it difficult for other road users to interpret and predict the motion of a bike in the dark. Expect to see a pulse mode – ON–OFF–ON–OFF – where the light is always on but varies in intensity, on the latest offerings.
Good basic rear lights cost from less than $20. One of the best battery powered lights available is the Blackburn Mars 3. This inexpensive yet very effective light has a number of flashing modes, is visible over 180 degrees and is excellent value for money. It's designed to fit on your seat-post but can also be adapted to fit to frames and racks, as well as clip to clothing and seat packs.
If you're intending to use a rear light on every ride then really a device which can be re-charged from a USB port/phone re-charger is the way to go.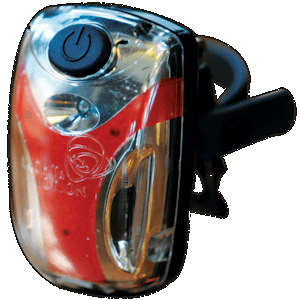 Modern USB charging means there is really no excuse not to run a rear light on the road, even through the sunniest summer's day. The cost of the charge is minimal, even infinitesimal, so while initially more expensive, you will save on batteries over and over again.
The Light & Motion Vis180 Micro ($49) has a number of effective modes as well as an extremely bright rear LED. It also has a pace-line mode which means it has a less bright, non-strobing mode so that when you're riding in a group you don't induce a fit in the riders behind you.
The Vis180 Micro also has one of the most effective 180 degree modes which aids visibility from the side, an essential feature for the regular bike commuter.
Light & Motion are a US company which makes virtually all its products here in the US. This also means L&M are very quick to react to consumer and dealer comments when improving their lights.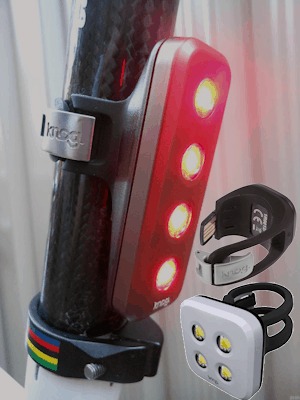 One of Halter's favorites is the Knog Blinder line of rear lights ($35 and up). Available in several formats including 4×1, 2×2, and a very bright single LED version, these lights mount on the seatpost using what amounts to an elastic band and charge up using an integrated USB connector.
The lights are built on a chassis of anodised aluminum and available in several colors to match any bike. Look out for a new version of the 4×1 with a superbright LED and pulse mode later in the summer.
Knogs aren't so effective from the side, but their minimalist design means they look cool on even the most lightweight road bike. Knogs have about the biggest sequence of flashes and strobes of any brand. Expect up to 50 hours off one charge in strobe mode.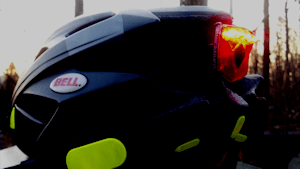 Another Halter's favorite is the Blackburn Flea 2 rear light – about $30. While it has generally been superseded by devices from other manufacturers it is the best helmet carried light there is. Held in place on a velcro strap it occupies a prominent and effective high point in the cyclists silhouette which aids other road users to assess the cyclist's speed and direction in the dark more easily.
Modern bicycle lighting is not just effective when it's dark. A good rear light will help you negotiate your ride more safely, even in broad daylight. Modern lights are effective, inexpensive to run and only add a few grammes to even the most avid performance rider's bike.
---
Halter's stock a range of excellent lights from Blackburn, CatEye, Giant, Knog, Light & Motion, PDW
---
If you're seeking information on other topics click on any item in Halter's Tag Cloud in the right hand column of this blog …
---
Alan – That British Bloke
---