Sometimes it gets a bit too cold for comfort. Ice, snow, freezing rain. All part of the pleasure of winter cycling.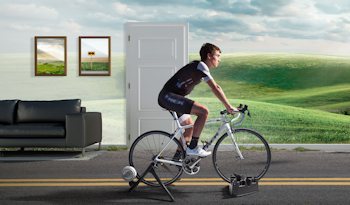 But it is possible to get a workout without setting a wheel outside.
One way is to use an indoor trainer, a device which holds your bike and provides a degree of resistance to the rear wheel and lets you pedal away in the comfort of your own cellar, or garage, or even in front of your TV.
Most adult cycles can be fitted to a trainer. Hub gears present a problem, but the only modification most bikes need is replacing the rear quick release skewer for one that's compatible with the trainer, usually in the box.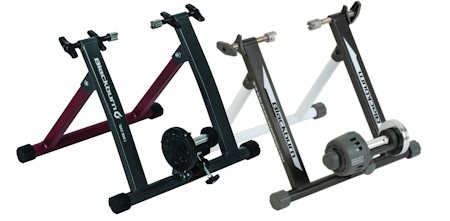 There are a few types of indoor trainer, usually delineated by the type of resistance used. The most common are air (spinning a small fan), magnetic and fluid. Each is to a greater or lesser degree adjustable, although in reality most resistance adjustment is relative to the gear you're using on your bike.
If you're looking for a more authentic experience then consider a computer/app controlled unit like the Wahoo Kickr which can work with your training program and videos.
We supply indoor trainers by:
Cycle Ops
Mag
Fluid2
SuperMagneto Pro
Blackburn
Mag 1
Mag 3
Wahoo
Kickr
---
If you're seeking information on other topics click on any item in Halter's Tag Cloud in the right hand column of this blog …
---

Alan – That British Bloke
---