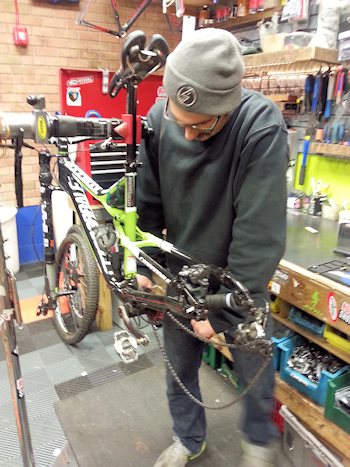 There is no doubt. A carefully adjusted and well maintained bicycle is a safe and efficient bicycle.
Most regular cyclists recognize the need to keep their bike in good condition. For a regularly used bicycle, about once a year should do it unless it's being used for all-weather commuting or engaged in really high mileage.
Bicycles for occasional use may only require a tune up every couple of years or so. Don't forget your old grandad's bike which has languished in the garage for years. They require a tune up more than anything to check for rotten tires and dangerous corrosion.
Now, speaking as someone who regularly helps out in a full-service bike shop, nothing says the good weather's coming like on the Friday before the first 60F+ weekend in April than having a queue of customers who need their bike tuned up "by tomorrow."
Look. We're keen to help out, but there's a limit to what can be done in 24 hours when workshop turnaround time is, at that time of year, seven to ten working days, more if specific parts are needed.
It just so happens that the next two or three months are an excellent time to bring your favorite road bike or mountain-bike, hybrid, cruiser into Halter's and give them the spa treatment. And, unless your bike requires some obscure replacement part, get your bike back in a couple of days. Or less.
Items included in a Halter's Tune Up include:
frame wipe down; gear hanger alignment checked and adjusted as required; wheels checked and trued; adjust, lube/grease wheel hubs as required; tires examined and condition noted; brake cables checked, lubricated and adjusted; gear cables checked, lubricated and adjusted; adjust, lube/grease bottom bracket as required
So. Don't get caught out by the first sign of warm blue skies in 2015. Give your bike the luxury treatment now and be prepared.
---
If you're seeking information on other topics click on any item in Halter's Tag Cloud in the right hand column of this blog …
---

Alan – That British Bloke
---