Taking Junior along on your favorite ride is one of the great pleasures of cycling.
A number of adaptions and accessories enable you to safely transport baby with your bicycle, and some even allow them to put in some effort of their own to maintain forward progress.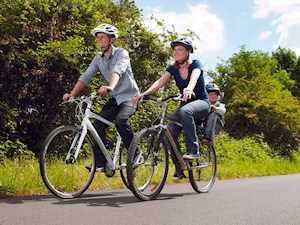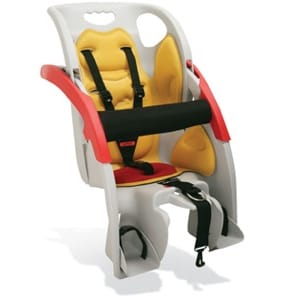 The most common solution for most bikes is the rack-mounted child carrier.
A seat like this can carry a child up to 40lb/18kg. Your child should also be old enough to support his/her own head and realize the importance of wearing a helmet.
Most child seats can be quickly removed from the bicycle when it's not needed and has a number of safety devices to ensure security on the bike.
There are a couple of types of bicycle which are not suitable for a rear carrier so check your bicycle is suitable to fit this type of seat. Full-suspension types are not possible and cruiser-type bike are often problematic.
We are frequently asked about front mounted child seats, but currently we have not come across any design we would be happy to put our own children on.
So, inevitably, children will grow, or you need to transport two of them. What then?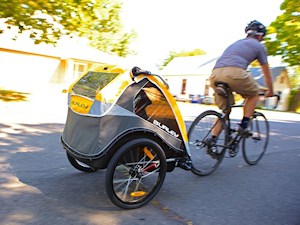 Bike trailers are a means of carrying up to two children, or a dog or other cargo for that matter. A typical trailer will transport around 100lb/45kg, but check individual models for exact capacity.
Bike trailers connect to a regular bicycle with a coupling which can be detached for transportation. Most also fold but this isn't always a convenient option so trailers can be bulky to move around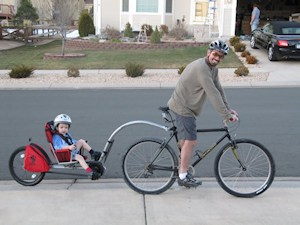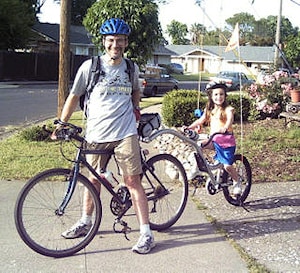 Some models can also be adapted to strollers or even joggers, usually with the addition of a conversion kit.
Often children want to feel they're making a contribution so find the Wee-Hoo exciting to ride. The trailer can be adjusted to suit most children, even older/larger children who may have mobility or other issues.
Finally, for children who are free-riders but would find any distance difficult on a child's bike there is the Trailer Bike; half-a-bike which is also attached to the adult cycle.
This type of trailer also enables the parent to have a sense of security and control when cycling with younger children on the road or in busy areas.
Versions are available with gears, and even a 2-child tandem version to enable a true family pace-line.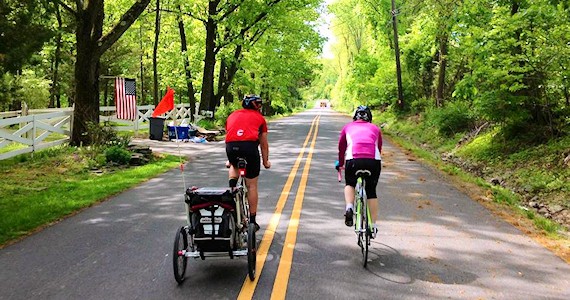 Halter's stock a range of children's transport adaptions from Burley, Co-Pilot, Wee-Hoo and Giant. Come in and ask our advice.