As the days have gotten shorter we find ourselves riding in the dark more often than we might prefer. 
This year we have began to stock lights from Light & Motion.  We have been testing these lights both in the woods and on the road.  We are confident that you will be impressed with what Light and Motion brings to the table
They make lights that use HID, LED and Halogen bulbs. 
Check them out at:
https://www.lightandmotion.com
We will be stocking these 3 models all winter.
The ARC Li-Ion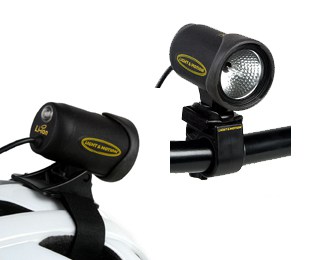 Are you a serious 24hr competitor? Or do you just need the brightest, whitest light available for your local night ride? Now you don't need to drag around a heavy old battery. There's a new king of the jungle in HID lighting systems. The ARC Li-ion turns night into day and its super light; super compact, 300g Lithium Ion battery pack allows you to ride further and faster. The ARC Li-ion's High Intensity Discharge (HID) lamp provides 13.5 watts of intense natural light that is 3 times brighter than comparable halogen systems. A feather weight battery, multiple output levels, low battery warning and auto shutoff are just a few features that make the ARC Li-ion the new king…
The VEGA!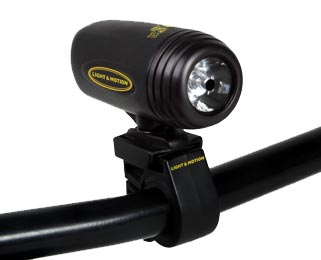 Finally! The promise fulfilled, Light & Motion produces the world's first super-compact, high powered LED rechargeable bike light. We utilize a 4 watt Luxeon™ Star Power Light Source, the world's brightest LED offering up to 85 lumens and an incredible 10,000 hour LED life. Combine this with a T.I.R. (Total Internal Reflectance) acrylic reflector and you have a super compact 240g light that doesn't just let you be seen, it lets you see.
An industrial NiMH battery is integrated into the light, so no fumbling with cheap consumer AA cells, or separate battery pack and cord to untangle when you get to your destination. Charging is as easy as plugging in your cell phone, and with our proven DT/dt charging profile the batteries will last over 3 years, or up to 500 charge cycles
The Stella!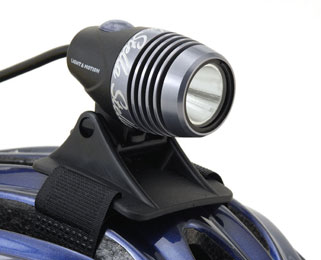 Asphalt, dirt, adventure or trekking; the new Stella 180-L packs a long list of features into a very small package. Light & Motion is proud to introduce our new super-compact, high-output LED rechargeable bike light, Stella!
Simply put, Stella provides twice as much light as the comparable single-LED systems currently available. By making use of the latest LED technology, Stella provides 180 lumens of ultra-white light, burn times surpassing 5.0 hrs on the highest setting and a total system weight of 300g!