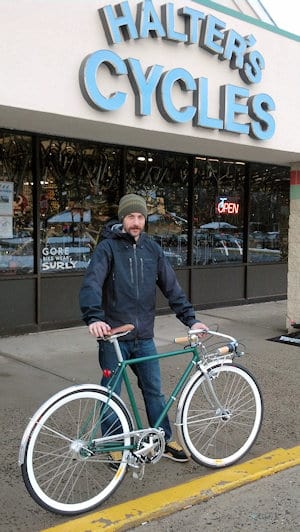 If you're a regular Halter's customer and if you're lucky you might have noticed Cody in the workshop diligently toiling over someone's pride and joy, and sometimes on excursions into the body of the shop, guiding and advising customers with assured experience.
Like most guys and grrrrrlz who have ever worked in a bike-shop Cody has a menagerie of bikes back home. So when I asked him, which one was his favorite, Cody spent some minutes considering this searching question before settling on his round-town-cruiser.
Do you notice? No brand name? No. This is a bike built up from a good, but anonymous steel frame, somehow acquired in the non-specific past, and then an eclectic selection of components and stuff from the bits box assembled into a bike like no other.
Because it's not every day you come across a 7-speed internal hub bike with mustache handlebars. But today dear reader, is that day.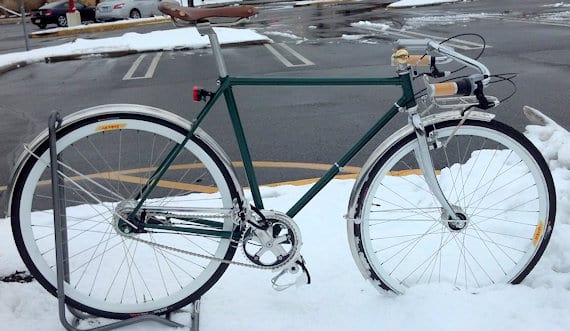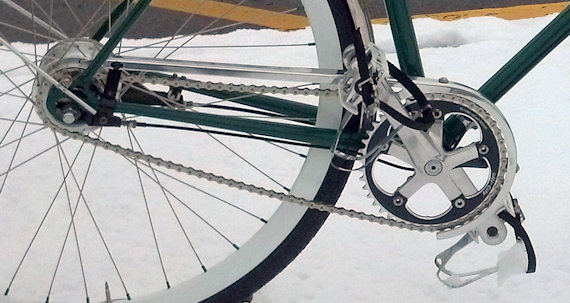 The drive chain features a Shimano Nexus7 internal geared hub with drum brake, hand laced onto Velocity rims with DT spokes and green spoke nipples. There's only one way to get a set of wheels like this. Get to know Cody. He'll build you a pair …
The rest of the drive-chain is set off with a chain-guard – yes, you can still get them if you look very hard – and quill pedals with cages and straps. If you think clipless pedals are hard to get out of then try these.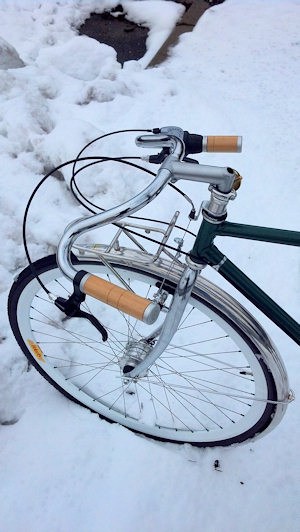 Cody has paid attention to detail on this bike with chrome plated cable clips and a neat front carrier. Seating arrangements are covered by a Brooks saddle which has definitely been through the settling in process.
But the whole effect is set off by the fantastic Honjo fenders. Hand-made by a venerable old samurai in his garden shed in Japan – okay, not quite true … but almost – these retro looking mudguards lend the aura and the elegance of a bygone age.
So, working in a bikeshop may give you access to the latest carbon bike and cutting edge gizmos, shaving your pb on Strava and generally having the best bike in town. Well, this is the best bike in town too. It's just more fun.