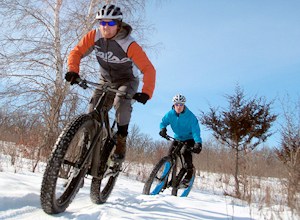 Well, dear and cherished customer, someone has to fly out to strange and exotic locations to check out all that is new in the world of cycling and bring those treasures back to you.
And so it fell to Jason, Trip and (Call Me) Al to fly off into the sunset and arrive in a fairly snowy Minneapolis (MN)  to attend the QBP Frostbike dealer exhibition and conference to check out what's new and what you can expect to see in your local bike shop over the next year.
It's hard to say what a city is like when all you've seen of it is the route between the airport and some outlying business zone where the convention hotel is, but it looked frigid under a foot or so of fresh snow, but warm inside, and clearly, referencing QBP's success, a city sympathetic to cycling.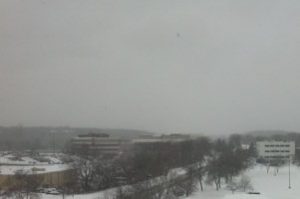 And so on to what's new. Well in accessory terms stuff is just generally getting better and better. The biggest advances are in bike associated electronics.
Lights keep on getting brighter and lasting longer on either a battery or a charge. Virtually all lights, apart from at an entry level are USB chargeable. This makes them more expensive, but most are rated for 5-600 charging cycles, and that's an awful lot of Energizer bunnies, so are a lot less costly in the long run.
If you are into GPS, up until now Garmin have been pretty much the only show in town, but expect announcements soon from CatEye and Magellan. If you are looking for a smart-phone GPS application, there are now a number of apps which extend the battery life and incorporate BlueTooth cadence and heart-rate monitors. Expect to keep your phone in your back pocket and review data through a remote screen on your handlebars.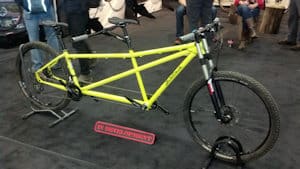 Other than the announcement about the Salsa Carbon BearGrease, which still has its specifications embargoed, the only prototype to make the floor of the show was the Salsa tandem. Salsa were keen for dealer feedback to help decide whether to put the bike into production.
It was clear a number of European companies are making a major push into the north American market. Michelin, Continental and Hutchinson, as well as some smaller manufacturers, are carving out the high-end tire demographic.
Other accessories and components manufacturers such as ABUS and Hope also ran demonstration booths.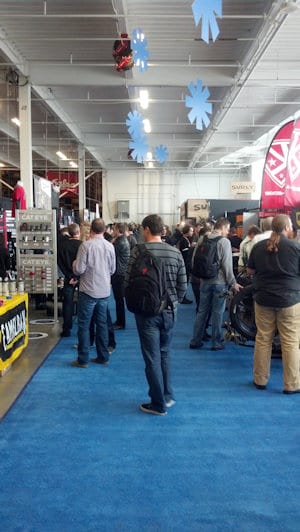 US and north American manufacturers were there in force too, of course.
A huge amount of design and manufacturing innovation was evident in every genre of cycling from BMX to grand touring. Expect carbon fiber to maintain its position on the cutting edge, but plenty of titanium was around and also refinements which mean that more traditional materials are lighter and stronger than they've ever been.
Highlights? Well Jason got the chance to tell the major manufacturers where they're going wrong, and believe me, they need telling what regular riders and dealers really want and Jason is just the guy to do it.
Trip was running in bronze position in the Change The Tire On The Fat-Bike competition with just a couple of hours of the show left.
Alan would say that the All-City bicycle party was the best, if only he could remember it … Excellent beer, by-the-way. Fulton's of Minneapolis.
---
Alan – That British Bloke
---