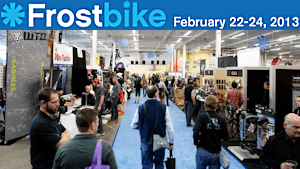 The Halter's gang is flying off to *Frostbike 2013 held in balmy Minneapolis, MN, over the next few days.
Hosted by QBP, the biggest US supplier of bicycle parts, accessories and a few interesting bicycles, manufacturers make their pitch, not to the glossy magazines, but to the guys who deliver their wares into your neighborhood. That means us.
All this means Halter's will be closed on Thursday, but will be back to regular hours on Friday:
Thursday 2/21/2013: Closed
Friday 2/22/2013: Open 11am-7pm
Saturday 2/23/2013: Open 10am-5pm
We re-open again Tuesday 2/26/2013 on our usual winter hours. Expect an announcement about Monday opening and summer hours soon.
We'll be posting anything we find interesting on this blog in the next few days, so bookmark us now to see what will be in store in the next few months.
Now, just hoping Jay gets to sit by a window and Alan gets an aisle seat.
---
Alan – That British Bloke
---