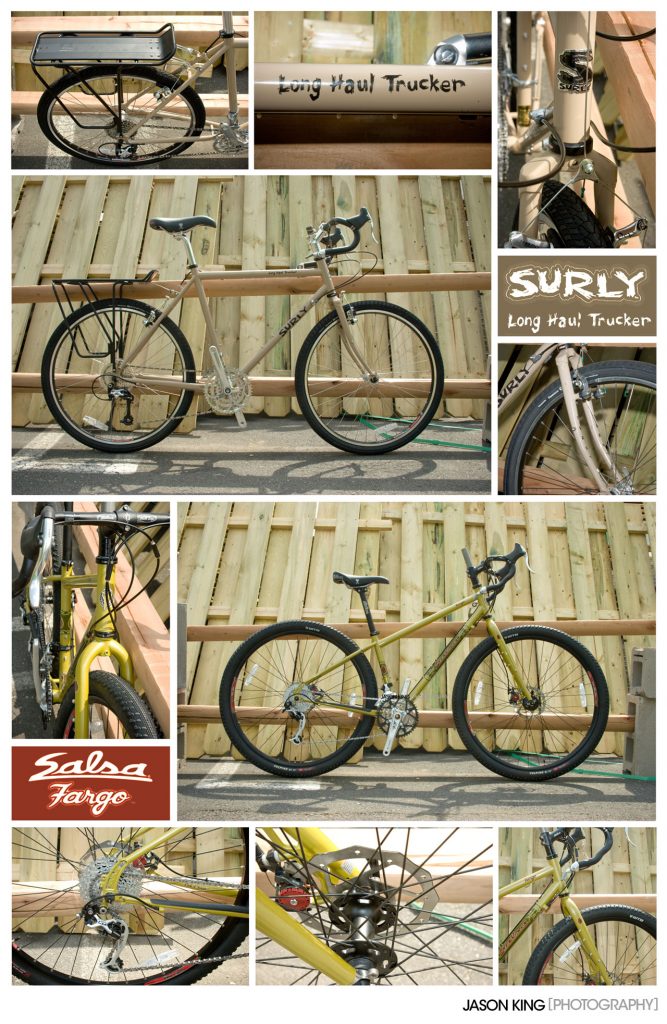 Summertime rolls and so do these bad boys.
The Surly Long Haul Trucker pictured here will be rolling across Europe this summer. Surly's relaxed, CroMoly steel frame is designed to be loaded up and pedaled all day. With room for 3 bottle cages, front and rear racks, front and rear fenders, chainstay spare spoke holders and pump pegs this bike is ready for the long haul.
Surly Long Haul Trucker
Surlyville: Long Haul Trucker
Gobs of Surly Pics
When the ride you're on runs out of road, Salsa's Fargo keeps on riding. The Fargo is an adventure touring mountain bike with fat, trail-loving 29″ tires, a steel CroMoly frame, drop bars, disc brakes, fork and frame braze-ons for front and rear racks and fenders and six bottle cage bosses (yes, six). This Fargo will be riding across Alaska in just a few weeks on one lucky rider's summertime adventure.
Salsa Fargo
Salsa Fargo
Mega Pics on Google
Photography ©2009 Jason King Photography Princeton, NJ